Accommodations in Paradise
The bungalows and other accommodations that Paddle Asia employs vary in quality from place to place. Some bungalows are very nice and very clean, while others are not exactly what we desire. We are working on this. Still, this is often the price we have to pay to access some of the most beautiful destinations in southern Thailand. We go off-the-beaten-path. Join us as we explore the areas that have yet to be impacted by mass tourism.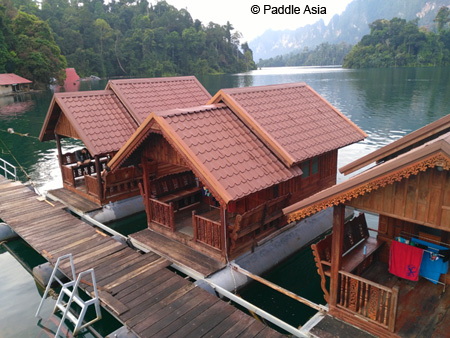 Khao Sok National Park Floating Bungalows
The bungalows and other accommodations in Khao Sok National Park on Cheow Lan Lake are a small step up from camping basically. The reason is that the material used is mostly bamboo (grass family) and Nipa Palm fronds (used for some of the roof thatching). Some roofs are sheet metal.
The good news environmentally speaking is that these bungalows are extremely low impact.
These bungalows belong to the National Park, not Paddle Asia. We do some repair work ourselves from time to time though.
Each bungalow has a front deck. You can swim in the reservoir, it's very clean. The deck is a nice place to take a nap between paddling or hiking outings.
Each bungalow has one or two mattresses on the floor. Mosquito netting is not supplied as mosquitoes are rare in Khao Sok for some strange reason.
If you would prefer a house on the land, that is available as well. The houses have big family rooms and proper toilet facilities next to each bedroom. Front decks overlooking the reservoir are an added bonus. Here are more images of the floating bungalows.
Shared shower and toilet facilities are located on the land. As the reservoir is used for hydro-electric power and as water supply for Surat Thani and other nearby towns, the water level changes throughout the year.
The floating bungalows are merely a base for the real reason to visit Khao Sok. Nowhere else in southern Thailand can compare to the abundance and variety of wildlife that you'll see here. If you're used to more fancy accommodations, these quaint, very low impact, basic bungalows are a small sacrifice for the privilege of being in such a magical place.
Most guests, however, do find the bungalows to be delightfully simple, charming and a wonderful addition to their Khao Sok experience. There is beauty in simplicity.
---
Phang Nga Bay Bungalows Koh Yao Noi
We use various nice bungalows on Koh Yao Noi (Long Little Island). Bungalows are included in the trip price. These bungalows have air conditioning and hot showers.
The view from the bungalows is superb. Several small islands sit just off the long beach in front of the bungalows. Early birds can get some wonderful photos as the sun rises over the islands.
The mountains of Krabi Province stand tall behind the islands. Stunning scenery? ... you bet!
The food on Koh Yao Noi is outstanding. In fact, it's some of the best around. If you'd like to give real Thai food a try, the cooks won't hold back on the spices. If your palate is more tender, don't worry, they can tailor it down to any level you wish. Breakfast varies from all of the standard styles of eggs, to yummy Thai rice porridge, to thick fruit pancakes.
Buffet style meals are also available for groups or large families.
Ko Yao Noi sustains a healthy population of birds, monkeys, monitor lizards, barking deer and very colorful insect life. Oriental Pied Hornbills frequent the trees surrounding the bungalows. Ruddy Kingfishers, bright purple kingfishers with a wonderful 'trilly' call, zip around in the mangrove on either side of the bungalows; as do Brown-winged, White-throated and Collared Kingfishers. Mangrove Pittas sometimes visit too.