Rock Climbing Tours
The rock climbing on Koh Yao Noi and the surrounding smaller islands in Phang Nga Bay is on the world class limestone that has made southern Thailand rock climbing famous. Nestled between the mass tourism destinations in Phuket and Krabi, Phang Nga Bay offers a wonderful retreat from the noise, crowds and general touristy feel of these well-worn travel destinations.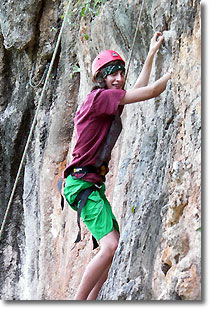 Though bolted climbing routes are normal for most climbing in Thailand, traditional climbing is readily available as well. If you like the idea of climbing where others haven't climbed, we've got the solution. There are climbs for beginners and experts alike. The various grading systems for rock climbing are at the bottom of this page.
No experience is needed for our climbing tours. In fact, we specialize in teaching beginners the safest and most efficient climbing methods. If the idea of climbing in a stunning natural setting away from all other tour groups, this is your best option. Climbing in certain places, like Krabi, is very popular, but the drawback is crowds, noise, polished rock due to so many climbers and the feeling that you're doing something that plenty of others have done before. We offer the opposite.
Our tours offers one of a kind, personalized climbing adventures that no other company offers. We have the benefit of knowing all the ins and outs of Phang Nga Bay. Our climbing trips can also be customized according to your preferences.
We also use climbing to access mountain tops and ridges where humans have seldom, if ever, been.
Our Trips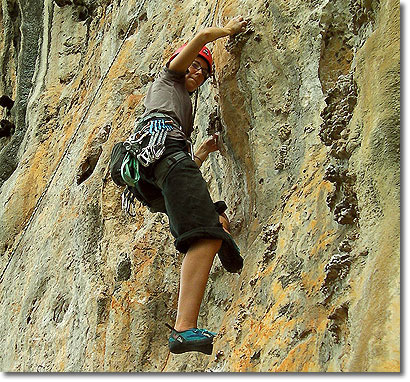 Most of our climbs are accessible only by boat. You may reach the cliffs by the traditional longtail boat. All of our trips include water, lunch, and fruit. Prices vary according to what you would like to do. You can customize your day or days with us to include a number of different adventure options.
If you have never climbed before, we have top-rope courses as well as lead climbing courses. If you are an experienced climber, we offer trips to islands previously inaccessible.
Your climbing Guides
Dave has been an avid climber for more than twenty years and was one of the pioneers of climbing in the famous New River Gorge in West Virginia.
Dave is a highly trained tour leader with certification through many international first aid and rescue organizations. In addition to a comprehensive first aid kit, Paddle Asia climbing trips include a spine board or soft stretcher. Very few tour operators (almost none in Thailand) go as far as we do when it comes to safety and preparedness. View certifications.
We look forward to seeing you Koh Yao and hope we have the opportunity to take you climbing!
Getting here
There are a variety of accommodations on Koh Yao Noi, ranging from basic bungalows to a luxury resort. We are happy to make reservations for you before you arrive.
Koh Yao Noi is easily accessible from both Phuket and Krabi. There are hourly ferries from Phuket and a couple of ferries from Ao Nang, Krabi per day.
Rock Climbing Day Tour or Two-day Tour
If you have limited time and want to get away for a quick rock climbing day trip or two-day trip, we offer a very nice trip to a small park by Phang Nga Town.
There are lots of bolted routes and enough different cliffs to always be able to climb in the shade.
If you choose the two-day option, you will spend the night at a nice air-conditioned guesthouse and be treated to some superb Thai cuisine at a riverside restaurant.
If you're already in Phuket or Krabi and need to get away from the crowds, this is the perfect opportunity.
Click here to see a video of
rock climbing in the city park in Phang Nga Town.
Guest comment: Christoffer & Malin Axelsson (Swedish)
"We have climbed a couple times together with Dave, both in Phang Nga Town and on Koh Yao Noi, and we loved it.
"Phang Nga Town is a park just outside the town where the Thais having their Sunday picnics. The surrounding is quite different compared to Phuket and the rocks protrude majestically.
"One of the best things with this park is the easy access, so a perfect place for a short climbing trip, even for a half day. The routes vary in degrees of difficulty, from 5+ and upwards, so everyone can find something to climb, i.e. ideally for groups that are on different levels.
"Koh Yao Noi is a peaceful island located in Phang Nga Bay far away from tourist hordes. We really liked the atmosphere on the island, and it's worth a visit even without climbing. But the climbing is fabulous and it's like a Swedish smorgasbord with a lot of deliciousness to grab. "Grateful Wall" became a personal favorite, which is just by the seaside and only reachable by boat (fortunately Dave has his own longtail). The wall offers routes with grade 6a to 6c all bolted with new titanium bolts (as most of the routes in this area). There are a lot of holes in different sizes, which makes it possible to vary the climbing even on the same route.
"If you looking forward meeting a lot of other climbers neither of Phang Nga Town or Koh Yao Noi is the right place for you, but if you prefer climbing instead of waiting on your turn, they both are great places.
"Without Dave's excellent local knowledge and his good connections, our visits wouldn't be as wonderful as they turned out to be. He is also nice guy and a living one-liner machine, and we enjoyed his company very much.
"Thanks a lot, Dave, for make our four month Phuket stay more bearable."
Rock Climbing Guidebook for Phang Nga Bay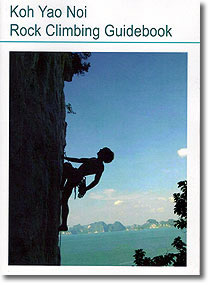 The Mountain Shop has a wonderful guidebook for rock climbing in Phang Nga Bay, with a focus on the many bolted routes on several walls on Koh Yao Noi.
Contact Heather Miner of The Mountain Shop to get your copy of this rock climbing guidebook. Heather offers PayPal as a means to purchase the book or you can drop by The Sea Gypsie Restaurant on Koh Yao Noi in Ta Khao Bay to pick up a copy.
Click here to go to our main
Thailand rock climbing & ecotourism website to see complete information on our rock climbing tours, pricing, and much more information.
Rock climbing grade chart
Though slightly subjective, climbing grades are a good measurement for your overall climbing skill level. There is also a big difference between one's ability to lead a given grade vs one's ability to follow or top-rope that same grade. Climbing routes also vary due to the type of rock. Limestone is very inconsistent in texture and feel, sometimes adding to the stress of certain climbing routes. In other words, there is more to climbing than just the grades. Don't get hung-up on the numbers.
In Thailand, the popular sport routes tend to be graded on the French scale. Below are the conversions for the various different systems.
| | | | | |
| --- | --- | --- | --- | --- |
| USA | French | UK | Australia | UIAA |
| 5.2-5.3 | 1-2 | HVD | 8-9 | I-II |
| 5.4-5.5 | 2-3 | MS | 10-12 | III |
| 5.6 | 4 | S | 13- | IV |
| 5.7 | 4+ | VS | 13+ | V- |
| 5.8 | 5a |   | 14 | V |
| 5.9 | 5b | HVS | 15 | V+ |
| 5.10a | 6a | E1 5b | 19 | VI+ |
| 5.10b | 6a+ | E2 5c | 19 / 20 | VI+ / VII- |
| 5.10c | 6b |   | 20 | VII |
| 5.10d | 6b+ | E3 5c | 21 | VII+ |
| 5.11a | 6c |   | 21 / 22 | VII+ / VIII- |
| 5.11b | 6c+  | E4 6a | 22 | VIII- |
| 5.11c/d | 7a |   | 23 | VIII |
| 5.12a | 7a+ | E5 6b | 24 | VIII / VIII+ |
| 5.12b | 7b |   | 25 | VIII+ |
| 5.12c | 7b+ | E6 6b | 26 | IX- |
| 5.12d | 7c |   | 27 | IX |
| 5.13a | 7c+ |   | 28 | IX / IX+ |
| 5.13b | 8a | E7 6c | 29 | IX+ |
| 5.13c | 8a+ |   | 30 | X- |
| 5.13d | 8b | E8 7a | 31 | X |
| 5.14a | 8b+ |   | 32 | X / X+ |
| 5.14b | 8c | E9 7b | 33 | X+ |
| 5.14c | 8c+ |   | 34 | XI- |
| 5.14d/5.15 | 9a | E10 7c | 35 | XI |