About Us at Paddle Asia - some of our guest comments can be seen here.
Paddle Asia's mission is to provide discriminating travelers the opportunity to see the less-visited areas in Thailand's national parks and conservation areas with the most highly trained guides in southern Thailand. Our philosophy/goal is to show the world that we can have a very successful company with respectable salaries for the local staff without resorting to any mass tourism marketing.
We are the only major kayaking company in Southern Thailand that hasn't sold out to the lucrative day trip market and remains Southern Thailand's ONLY multi-day expedition tour operator. We offer a day trip on request, but that is not the focus of our company.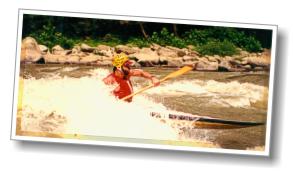 Furthermore, we also have no interest in going after meaningless tourism awards given by organizations (airlines, government tourism boards, member-funded organizations, etc.) that have nothing to do with responsible, earth-friendly travel. Anyone can fill out an award application and win an award. We don't bother. We just run great trips.
We are the only ones who do what we do!

Dave "Old School" Williams - Director
Dave Williams, a lifelong naturalist and animal lover, is an American expat who has lived in Thailand in both Phuket and Krabi since 1992. Dave is well-traveled having lived in New Mexico (born is Roswell), Florida, Indiana, Hawaii, and Virginia. He left Virginia in early 1992 and headed for the tropics. Dave is the only kayak tour operator in southern Thailand who was an expert level paddler before getting in the paddling business! He's a paddler first and foremost and in the business second.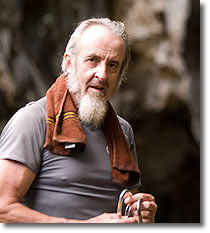 He started paddling in 1978. He has a great deal of experience in both very serious whitewater and sea kayaking. Dave has paddled all of the most treacherous rivers in the eastern half of the USA and most of the dangerous rivers of Colorado. He also paddled 229 miles of the Grand Canyon in a squirt boat in 1989. He has, of course, paddled extensively in Thailand and in the rivers of Laos.
Dave is a BCU (British Canoe Union) Level 2 Coach and is Level 3 trained (Level 3 Coach certificate to come shortly). As important as the certification is the fact that Dave has over 33 years of kayaking experience, including many hardcore expeditions.
He is also a BCU Lifeguard. Click here for proof of certification. Dave is an Emergency First Response instructor, a Rescue 3 International rescue technician and is also ITC (outdoor specific) First Aid and CPR certified.
Dave stays extremely fit so that he can offer expeditions to hardcore cyclists, kayakers, rock climbers and mountaineers. Not many people over 55 years-old are in the type of shape that Dave is in.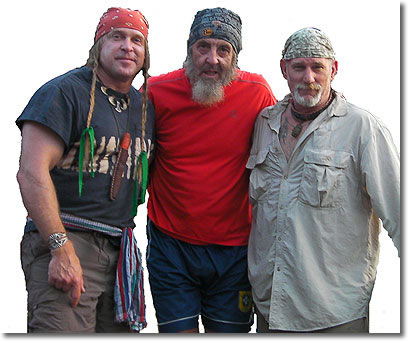 He is a lifelong student of natural history, ornithology, biology, botany, paleontology, fitness and Eastern Philosophy. Dave majored in Eastern Philosophy and Music (as a percussionist) at Christopher Newport University in Newport News, Virginia. He has a very broad knowledge of the birds of Thailand. He has a good working knowledge of the mangroves, edible plants and other plants of Thailand. He's also interested in all facets of fitness, seamanship, oceanography, rock climbing, wild edible plants, jungle survival skills, archery, and all forms of paddle sports.
Here is a
video of his archery. And Dave's other videos
here.
"Dave Williams is a sort of paddling encyclopaedia for Southern Thailand."
Action Asia magazine May/June 2009
Dave was the jungle survival expert (consultant) on two episodes of The Discovery Channel's "Dual Survival".
---
Paddle Asia's all-Thai Staff
Walaporn "Moo" Jitprathep, Co-Director
Moo was born and raised in Bangkok. She moved to Phuket over a decade ago. She has a love for life that is beyond words. For some strange reason, she's always happy...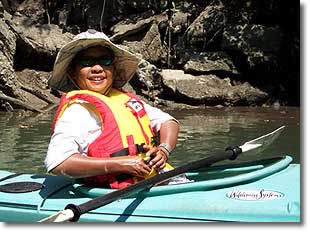 Moo comes from a very poor family. She could only attend formal school for six years... yet she is now fluent in English and reads and writes it as well! She is a very special individual indeed.
Moo has been on hundreds of kayaking trips and has a very keen safety sense.
Moo and Dave have been married since 1993. They live outside of Phuket Town with daughter Mook ('Pearl' in Thai), granny and their four very pampered dogs.
Moo is a trip logistics guru, planner, guide, tour leader, and sometimes a cook. If Moo is on your trip, you'll be taken very good care of.
Here is a nice page written about our Thai guides.
---
Jamrat "Run" Rengsamut
Thai cycling guide Khun Run is both a superb kayaking guide and our main Thai mountain biking guide. Run was born and raised on Ko Yao Noi in Phang Nga Bay. Run runs a lot of our cycling day trips and he joins almost all of the bigger cycling group trips.
Run is licensed through the Tourism Authority of Thailand. No guide can legally guide without this license.
Besides having a very charming personality, Run is completely fluent in English and is first aid certified.Everyone who goes riding with Khun Run has a great time.
He is very safety conscious as well as being a very talented paddler.
---
Piroum Chanaakson - Jungle Survival Expert
Khun Piroum is our extremely friendly and knowledgeable jungle survival expert. He has lived his entire life in the jungles surrounding Khao Sok National Park.
He knows all of the wild edible and medicinal plants. He's a master at building temperary shelters.
Piroum doesn't speak much English, but JJ or Tom go on trips with him to interpret.
For a sample of one of his many skills, watch this
bamboo hammock video.
---
Graham Wardle (British) - Our Safety Guru and Educator Par Excellence
Graham doesn't work for Paddle Asia, but we feel he is an integral part of our team as he teaches us so much about safety and BCU standards.
BCU instructor Graham is an International School teacher at NIST. He lives in Bangkok with his lovely wife and darling daughter.
For close to three decades he has worked in the field of Outdoor Education, as a coach, manager, senior BCU development officer and teacher.
Graham has paddled, rafted, dived, trekked and climbed in 35 countries. He is a British Canoe Union Level 5 Coach Raft Guide and Rescue 3 Swift Water Rescue Instructor. He holds British Mountaineering Council, rock climbing and mountaineering awards as well as been a keen and avid PADI Scuba Instructor.
Graham has been instrumental in the development of White Water Safety & Rescue techniques in the UK and Europe, along with the development of coach education schemes. His teaching skills and methodology work with both foreigners and Thais equally. Graham has a lot to offer and we try to soak as much of his vast knowledge up as possible.
---
Cabu
If you head down to Tarutao National Park with us, you'll be treated to meeting our local sea gypsy longtail skipper, Cabu. Another former subsistance fisherman, Cabu along with a fellow sea gypsy help run us around the outer islands in his longtail motorboat. He and his helper travel ahead of us to set up our camps too.
Sea gypsies are at the bottom of the pecking order in Thai society and we prefer to find and help nice folks like Cabu whenever we can. Once you meet him you'll see why we hired him to be part of our team.
Unfortunately, due to mass tourism, environmental destruction, and too many bars, Paddle Asia no longer offers trips in this formerly stunning national park. If you go down there, please say 'hi' to Cabu and hire him to help you escape from the maddening crowds.
---
Our Kids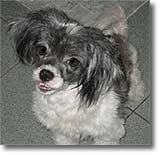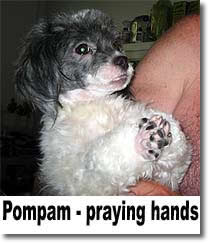 Pompam is one of our four dogs. She was left out in the street at a very early age. She's one of the most darling dogs imaginable. When you pick her up, she does a wai (the Thai prayer hands). She actually puts her palms together... how cute is that!
Two of our other five dogs are Brownie and Pook Look. Brownie was abandoned as a puppy. It was immediately apparent that she was a very intelligent and loving dog. Her intelligence and compassion came to full light when we adopted Pook Look.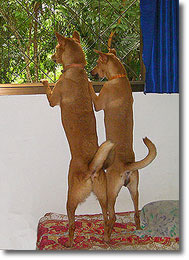 Left on the side of the road to die a slow death, Pook Look was a mess when we found her. She had massive head wounds. She was almost completely blind and she was covered in ticks and fleas. After almost a month in the hospital, she recovered. She was still blind for quite some time. It was then that Brownie came to the rescue. Brownie was Pook Look's seeing eye dog. Brownie would walk in front of Pook Look and guide her in the right direction and even slow her down when coming to steps. It was incredible to watch.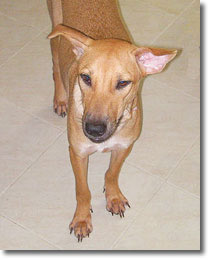 Pook Look is one of the most affectionate dogs on the planet. She craves attention and whenever I take a nap (all I've got to do is say "nap" and she hops on the bed), she cuddles up tight to me.
Brownie and Pook Look are best friends. They like nothing more than running full-speed around our big yard. One of their favorite activities is chasing cats. We have three cats too. They are not at all interested in hurting any cats. They're in it for the chase. If the cat does not run, they quickly lose interest. If the cat runs, it's game on! When not in chase mode, Brownie and Pook Look are on cat patrol... as seen in the photo to the left. Whenever I say, "where's the kitty cat?" They both race to the window to find out.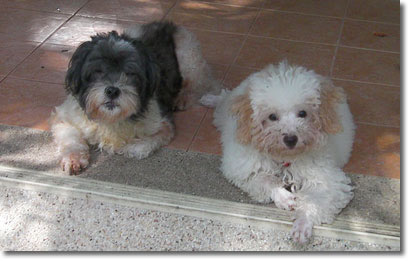 Our other two dogs are Lucky, a toy poodle with a bad hip. Lucky was abandoned as a puppy.
Soda is a cute little female dog who was wondering around our neighborhood for quite some time. It took a while, and a lot of treats, to get her to trust us. She's been a wonderful addition to our family for a long time now. Along with her, we took in another toy poodle named Judy who was abandoned because (apparently) the folks who bought her for their child didn't realize that he was allergic to dogs. Lucky and Soda play constantly, be it in the house or outdoors. They are always together 24/7.
Galong, orphan in Thai, was our other dog. He's a three-legged hound dog who has had a rough life. Galong lost his leg as a puppy and has spent a lot of time in and out of the hospital. He's a good boy and he gets along just fine now. Galong unfortunately passed away due to kidney failure on October 3rd, 2011. He is missed, but still loved. RIP my beautiful brown-eyed son.
We have taken in a sweet little blonde street dog named Soda in honor of Galong. Soda and Galong were friends. He and her played in our big yard constantly.
---
Some of our Guest Comments
Just wanted to send a short note to say that Jane and I had a fabulous day of kayaking yesterday with our guide. He was friendly, professional, and knowledgeable about the area, flora and fauna. His English was good and he had a good attitude. Our vegetarian meal was delicious and abundant. I'll be sure to spread the word about the excellent service and extraordinary experience your company offers!
Thanks for all,
Penny Cousins and Jane Mennie (2 satisfied customers) Phang Nga Bay day trip.
---
Our guide was brilliant. He was very attentive but not pushy and just always seemed to say and do the right thing. Moo was also fantastic and lots of fun, but she also showed us by example how to be very still and quiet. The bungalows were just awesome and so was the time we spent on water and on land.
Jackie Spragg - Khao Sok National Park
---
Just a quick note to let you know how impressed I was with the recent trip..........I could not get over how well everything was organised and I felt very privileged to have one on one with our guide for the kayaking he was very knowledgeable and entertaining to say the least. The accommodation, food and friendly people all added up to a very memorable time & I'll be back.
Thanks Dave for such a great experience. John Hiscock - Phang Nga Bay
---
Daniel Loiterton - Khao Sok December 2011
Just wanted to drop you a quick email to tell how much we enjoyed our week in Khao Sok. Everything was really smooth, organised well, but flexible enough to tweak the schedule whenever we liked. The family at the floating bungalows were lovely, made us feel very welcome, and cooked us some great food.

Click on the links to view some of Daniel's wonderful gibbon photos and other impressive animal photos in a photo gallery.
---
Writen by Kelly Audette (Canadian), Trang trip in November 2004
"Let me tell you how amazing my kayak trip was this past week. It was absolutely the highlight of my month spent in this amazing country. The weather was not always in our favour, but truly that could not have taken away from my overall experience. I think I almost enjoyed the rain and the storms as much as I did the sunshine. It was a perfect combination of all the elements.
As you well know, it is such a beautiful area, and being so close to it all in a kayak... I do not have words in my vocabulary that would do it enough justice.
I need to mention, however, that honestly the trip was nothing short of the best experience of my life entirely because of my two wonderful guides.
I have fallen in love with the Thai people during my short time here. As a woman traveling alone, I have had the pleasure of relying on the locals to help me along the way. But these two have surpassed all the others. I have never felt safer, and more cared for than with their hospitality. I have made two friends for life, thanks to you. I was never alone, in fact on many occasions I was lucky enough to have my own personal guide. I was encouraged to try new things and with every question I asked, the reply was always "whatever you want to do, we will do" I over indulged in their kindness, and they took it to the next level.
I have spent the last two days enjoying their company, on their own time. I have met their friends, seen where they live, how they spend their pastimes. They welcomed me into their worlds with open arms, and when they could not look out for me they arranged for their friends to do so.
Being the first time I have traveled outside of Canada everyone back home warned me to be so careful as a woman traveling alone. Do not trust anyone, they told me. But I knew I could trust these two, and I have never felt so safe. I will remember them for the angels that they are. Not only did they make my kayak adventure more than I could have dreamed it would be, they made my entire trip into something I will always cherish.
I can not say enough to express my gratitude towards them. I only wish I could bring them home with me to return the favour and show them my country.
It would be such a pleasure to see their reaction to my world. When I win the lottery this will be at the top of my list.
Please extend my appreciation and gratitude to them. Without them I would never have experienced Thailand is such a way.
I cannot say enough good things about PaddleAsia. Thank you so much!"