Jungle Survival Course Challenge with Tour Leader Dave Williams and licensed/certified Thai tour guides
Paddle Asia is now offering a 2 day hardcore survival challenge on a mountain ridge hike in Phang Nga Province.  This is limited to 2 days as water is a real issue. There simply isn't any on the top. There are two creek crossings once you are about three fourths of the way through the hike though. I'm not sure how far down someone would have to go to find water.
The trip starts in Phuket.  It is a two day trip, but in the interest of maximizing the time to complete this strenuous hike, we will depart on the afternoon before the trip and spend the night in Phang Nga Town.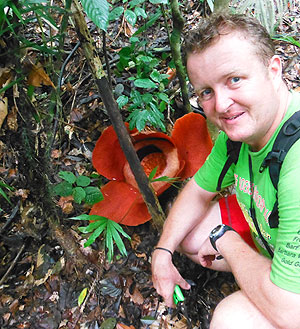 Phang Nga Town is less than an hour to the northeast of the Sarasin Bridge, the bridge to Phuket. It is a charming little authentic Thai town cradled between limestone cliffs.  There is a wonderful riverside restaurant where we'll eat dinner and discuss the essentials of trip safety, energy management, teamwork, and gear usage among other things.
So, unlike the TV survival shows, I don't really want the participants to go without water. It's dangerous. Going without food is one thing, but in a tropical setting where you're using perhaps a liter of water per hour while trekking, your body can start having serious ill effect within a day. TV survival shows have access to helicopters and other quick evacuation options. We do, of course, have evacuation options, but it involves a team walking the trail with a stretcher. 
As a certified first aid instructor, I also carry a comprehensive kit.  In remote areas, I expand my kit to include more trauma-related necessities.  In fact, I will have a porter who is designated just to carrying first aid supplies… and extra water.
The jungle, especially in difficult to access places, is as good as the jungle in most national parks.  There are plenty of massive old growth trees and very impressive biodiversity.
Wild edible plants are abundant and wide-ranging. From a huge selection in the ginger family (not many of them actually taste like the traditional ginger, it's just a huge family), to splendid tropical jungle fruits, to a host of edible palm roots or stems, you'll find that gathering food is not as difficult in this particular environment as it is elsewhere.
This trip required participants to be both physically fit and mentally resilient. It will likely be two solid 5 hour days of hiking on terrain that is almost never flat.
Focus (primary objectives):
·         Traveling as a team in challenging terrain
·         Carry minimal equipment
·         Sourcing jungle food resources (Jungle food is only to supplement food brought)
·         Sourcing additional water
·         Setting up a primitive camp
·         Cooking with minimal supplies. Using natural cooking methods will also be implemented

Survival kit items supplied:
·         Water filter systems
·         Small day packs (backpacks)
·         Knives
·         Folding saws
·         Small tarp (we're not keen on cutting natural vegetation down for roofing)
·         One jungle hammock per person (hammock has built-in mosquito netting)
·         A lot of drinking water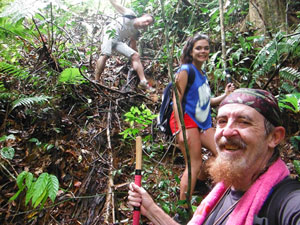 Informative pages of interest:
Price list - click here 
Image gallery - click here
Pinterest Phang Nga Province images - click here 
Pinterest Phang Nga Province waterfalls - click here
Proof of first aid / rescue certification - click here 
Read a previous trip report about this hike - click here
Hiking in Phang Nga Province can be added to your Khao Sok National Park adventure.  Phang Nga Province hiking can be customized to include jungle survival training as well.
Khao Sok Creek Trekking
We have found several nice creeks in Khao Sok that offer you a chance to venture deep into the otherwise extremely challenging jungle.  Creeks give you access to deep inside the jungle without the same level of struggle.
For those who like struggle, we offer that too.
Updated Photo Galleries
A couple of quick ways to see some regularly updated photos is to go to our FaceBook page and our Pinterest page
Visit our blog, please. It focuses on jungle survival skills.
Return to home page.