Thailand Introduction to Wilderness Survival
For those of you who are in Phuket and either don't have the time or budget for a trip to Khao Sok National Park to participate in one of our full jungle survival or bushcraft courses, we offer a wilderness survival introduction day trip on Phuket.
This is a fairly easy hike on mildly undulating terrain. The trail is open and well-defined most of the time. There are some narrow spots. The vegetation varies from scrub, to bamboo forests (approximately 200 species of bamboo in SE Asia), to old-growth jungle... including many emmergent species. There is a good representation of the rattan (climbing palm) family in this stretch of jungle.
Fishtail Palm plants are fairly abundant in this jungle too. The core of this tree is edible and the outer fiberous bark on the tree makes extremely good fire tinder.
Both bamboo and rattan are key plants in a tropical jungle survival scenario. Bamboo provides potential drinking water as there is often stored (drinkable) water in the internodes. Bamboo is, of course, an incredibly useful building material.
Bamboo shoots, though edible, often contain cyanide. Some species contain much more than others. This problem is solved by boiling it and pouring off the water. You usually do this more than once if you are not sure of the amount of cyanide in the particular species you are cooking.
Rattan core is edible. Rattan is used for making extremely strong cordage.
The route incorporate some private land as well as protected park land.
There is a pretty good variety of wild edible plants including ginger and some edible palms.
A survival kit is taken on this day trip. You will go through the kit using the various survival items.
You will learn how to obtain drinkable water as this is the number one priority in jungle survival in the tropics.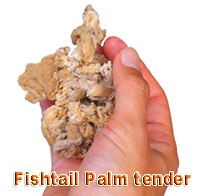 You will also learn how to start a fire using various methods including the fire striker, the fire piston, the bamboo saw friction fire and others. You will learn how to find quality tinder and kindling.
You will learn basic shelter building skills including knots, lashing and working with bamboo.
This trek is just over 5 kilometers long, though if you prefer to spend more time on skills training, the distance can be less. At a very reasonable pace it takes two hours to walk. Stopping to do the survival skills training makes it add up to about a five-hour trip.
What if it rains?
This survival introduction trip is available all year. Click here to see our weather calendar.
We don't cancel a trip because of rain. This is realistic survival in this region. For half of the year, there is a chance of rain at any point. As the climate changes, there is actually a chance of rain any month of the year. You will still try to build a fire and work on your shelter building skills.
Logistics
Transfers from anywhere on Phuket are included in the price. Depending on where you stay, the pick up time is between 7:30 - 8:00 am. You will be back at your resort/accommodation by approximately 3:00 - 4:00 pm.
A Thai lunch is included.
Multi-day Jungle Survival Destination
You can choose from Khao Sok National Park whereby kayaking is included in the course. This is a comfortable way for you to see the jungle and experience one of the nicest national parks in South East Asia.
What would you do if you were shipwrecked on a deserted island? Find out how to survive on our Coastal Survival Training course.
Here is a BBC jungle survival show that I did in February of 2014.
Check out the various videos on our
channel.
Certification in Paddlesports and First Aid
Dave is a British Canoe Union Level 2 Coach (trained to Level 3) and is the most experienced paddler in all of Southern Thailand.
Dave is an Emergency First Response Instructor and a certified rescue technician through the Rescue 3 International organization. Dave is also a certified Life Guard through the British Canoe Union. View certifications. Paddle Asia guides are EFR certified in CPR, First Aid, and basic life guard training.