Thailand educational adventure programmes for school groups
Paddle Asia specializes in the higher level Silver and Gold awards for the Duke of Edinburgh Award, IYA,
and NYAA schemes.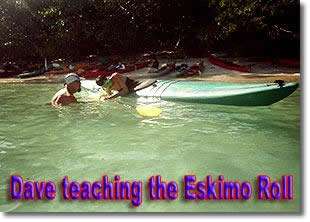 Paddle Asia specializes in year-round school group kayaking, jungle survival, trekking, and mountain biking adventurous journeys to unique, unspoiled, and colorful destinations throughout Southern Thailand.
In attaining a balance between enjoyment and learning, students and other youth people will become proficient and confident adventurers as a new world unfolds before them.
Paddle Asia offers the most experienced nature-based kayaking trips for schools in the region. We provide students with specific paddling skills, safety and rescue techniques, knowledge and experience with local flora and fauna, and an overall understanding and respect for their surroundings. Additionally, in keeping with the criteria set forth by the Duke of Edinburgh and other award programs, personal growth, leadership, and team cooperation are always an integral part of the programs.
We are the most highly certified company in the South Thailand region. We are certified by international organizations such as the British Canoe Union, Emergency First Response, Immediate Temporary Care (ITC), Rescue 3 International, the International Award for Young People and other organizations. Click here to see proof of certification.
Jungle Survival Courses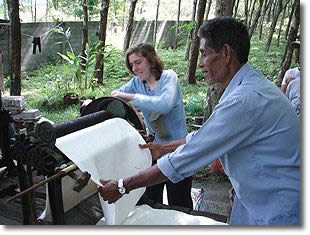 Jungle survival courses are available in Phang Nga Province and in Khao Sok National Park. The focus or our school goup survival courses are as much mental as physical. Emphasis is places on the logical aspects of prioritizing your actual needs. Basic skills such as fire starting, finding water, knots, building shelters, and gathering wild edible plants are supplemented with more advanced information and skills.
Mountain Biking
Our experience also shows that students have the most fun when the classroom is all around. In other words, why not be surrounded by what you're studying? For cycling trips, see our mountain biking page.
Phang Nga Bay Kayaking and Homestay Project
Phang Nga Bay is the idea destination for Duke of Edinburgh and other award trips. There is the perception of remoteness, a vast number of islands for camping, enough area to cover everything from bronze to gold. All of this as well as quick assess to world-class medical facilities makes Phang Nga Bay the idea destination for award journeys.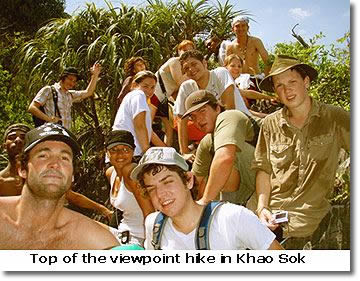 Koh Yao Noi is basically a Muslim fishing village and the locals are doing their best to keep their island from being gobbled up by mass tourism. The locals are some of the most friendly and giving people you'll find anywhere... period. They've been very successful so far at protecting their very special culture. Paddle Asia offers a variety of Community Involvement Programs.
They even have a Homestay Project that you might want to consider. Our sister site Sea Kayaking has more information about the Homestay Project.
We also work with the local high school on Ko Yao Noi and offer their students as guides for trips around the island. These guides can also serve as for the Homestay people as few of them speak much English.
Safety Standards
Itineraries, accommodations, and meals have been extensively researched and tested. Our native-English speaking guides are certified in first-aid, CPR and Life Guarding. From start to finish, Paddle Asia programmes comply with the United Kingdom Ministry of Education's guidelines on health and safety standards.
Dave is an Emergency First Response instructor and is a certified rescue technician through the Rescue 3 International organization. In addition, Dave is certified in first aid through Immediate Temporary Care as well.
Dave is a British Canoe Union Level 2 Coach, but just as important as that, he's got over 34 years of real experience... a 'piece of paper' is certainly nice, but it's no substitute for the combination of both experience and certification.
On Paddle Asia school trips, a professional quality spine board (with head block) is included as is an emergency oxygen tank/mask kit. Our safety record is perfect, still, emergency preparedness is a top priority with us at all times.
Paddle Asia is fully licensed by the Tourism Authority of Thailand and is fully insured. Click here for proof of insurance.
We look forward to designing a rewarding adventure for you. Paddle Asia will also assist you in developing a specific field of focus particular to your current studies.
Community Service Opportunities
Paddle Asia works closely with the Yaowawit School for the orphaned, poor, and disadvantaged youth of the region. This school is located in Kapong, just 90 minutes north of Phuket. You can see some images and read more on this page and this page. This school represents a great opportunity for more fortunate students to do some community service work.
Sample Phang Nga Bay Kayaking Itinerary: Here is a sample four-day kayaking itinerary for Phang Nga Bay that we've operated for several schools. This is the perfect choice for upper-level awards. The bay offers the perception of remoteness, yet it is within easy striking distance to world-class medical facilities. The many islands makes navigation challenging and rewarding.
Paddle Asia also offers Residental Programs for all age groups. Contact us for details.